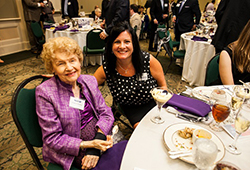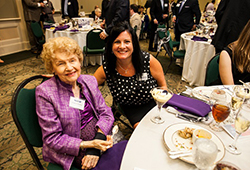 Elizabeth Brothers with staff member Mary Meghan Flanagan at our 20th anniversary celebration last fall.
April 03 2015
Elizabeth Brothers is one of the earliest voices on philanthropy in the Central Florida community.

Her passion started at an early age and she remembers her parents being involved with their church and her father was part of the veteran's organization that collected used toys and made them like new.

"My father refurbished the toys and gave them away at Christmas time to families who really needed them," said Brothers. "My mom would also make homemade cookies for the families that were delivered with the toys."

She joined a church as a young adult and began tithing, which was the center of her experience with giving away money. She remembers that exciting things started happening to her as a result of giving back.

Brothers left a career in publishing and started working at Mount Holyoke College. It allowed her the opportunity to work with people who were generous and it was then that she realized that planned giving was the wave of the future.

"What I quickly realized is that some people can give more if they planned now and did it later," she said.

At this time gift annuities and other options such as unitrust and annuity trusts were developed and she began to understand that this opened up possibilities and vehicles for individuals who needed more income, but wanted to be generous.

Brothers later began a 13-year career at Rollins College as the associate vice president of development. It was a challenge that she just couldn't resist.

"It was an amazing college located in a beautiful city," she said.

She needed to help Rollins College raise more money so she started with building a reunion gift program. They did a push every five years to get the anniversary classes together. Their first goal was to reach 100 percent participation and the class of 1937 reached this goal at its 50th reunion. This was accomplished through one-on-one calling.

"The amount was not important, but the participation was," she said. "They raised the bar for future classes."

Brothers also started planned giving programs and stewardship programs and even arranged for donors that gave scholarships to meet with the students who received the awards.

"It was all about personalizing philanthropy," she said.

One of her most proud moments while working at Rollins College was securing the first one million dollar gift from an individual who wasn't even a graduate. The donor got involved because of a professor interested in parapsychology and he set up a scholarship fund. Each year, Brothers would take the student and donor to lunch.

Brothers' is a strong advocate for the Central Florida Foundation because she thinks it enables everyone to be a philanthropist.

"Most people think that you have to have a lot of money to be a philanthropist," she said. "You can be junior philanthropist - they have just as much fun."

She thinks that the important thing for everyone to remember is to give thoughtfully and get involved so you can get a great deal of joy out of it while doing good.

She established the Elizabeth Brothers' Fund in 1999 because of her love of music and in particular, opera. She remembers being six years old when her parents took her to see her first opera. They also bought her a radio so she could hear the Metropolitan Opera broadcast. She took voice lessons and wanted to be an opera singer, but later realized that it just wasn't her calling. Instead she later realized that opera singers needed people to buy tickets. The distribution from her fund currently goes to the Orlando Philharmonic to support concert opera and she likes that her fund allows for flexibility.

Brothers' also holds an unrestricted fund at the Central Florida Foundation because she knows how important unrestricted funds are to organizations to keep their work going.

She met Earl K. Wood, long-time Orange County tax collector, through a Toastmasters club they both belonged to. Since Earl credited his success in public office to Toastmasters, some members of the club wanted to honor him by setting up a scholarship fund.

"Diane Sandquist helped the club members set up the endowment fund to honor Earl's communications skills," she said. "The effort gained support and every year on his birthday, his staff, other friends and Earl himself would make contributions to the fund."

Brothers' encourages everyone to get involved with the Central Florida Foundation because it's a valuable resource and an exciting opportunity to learn more about philanthropy and the community.

'I have received lots of help from the Central Florida Foundation,' she said. "They have excellent portraits in the Nonprofit Search and they save me a lot of leg work. I recommend it to others who are making grants - call the foundation."